KARIN VIAL & PARTNERS
Editorial Consultancy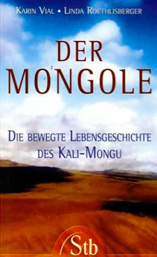 Books & Beyond
FEATURE FILM SCRIPT - THE MONGOL∗
(∗note: here working title only, as after registration of the screenplay with WGA, a Russian film company produced a film using this title)

WGA registration # 823959
Written with international markets in mind under supervision of the UCLA Film School, Los Angeles, on industry-standard professional software.

THE MONGOL
The gripping story of a love that could not be, set in Ancient China.
In the vast grasslands of Mongolia a beautiful Chinese settler girl, Nugha, feels attracted to the young nomad Kamo. He desires her. The evolving events bring about drama for both sides - sedentaries and nomads.

As the seasons rotate from lush green summer to deep-frozen winter and back again, conflicts and strife unfold… The Monastery on the Yellow Hill plays a crucial role in the events, with its well-trained warrior monks and the Emperor's Mandarin in residence. The final and surprising resolution comes through the strength of the young settler woman Nugha.

THE MONGOL
A script with a strong female lead we can totally root for. With fully fleshed-out three dimensional characters, martial arts, conflict and action, poetry and cruelty, love and death – and redemption. A beautiful story with true depth, developed primarily as an independent movie yet with definite mainstream appeal.



His Holiness the 14th Dalai Lama, from his Office in Dharamsala,
has extended his blessings for the success of this project.


Investor's Memorandum available.